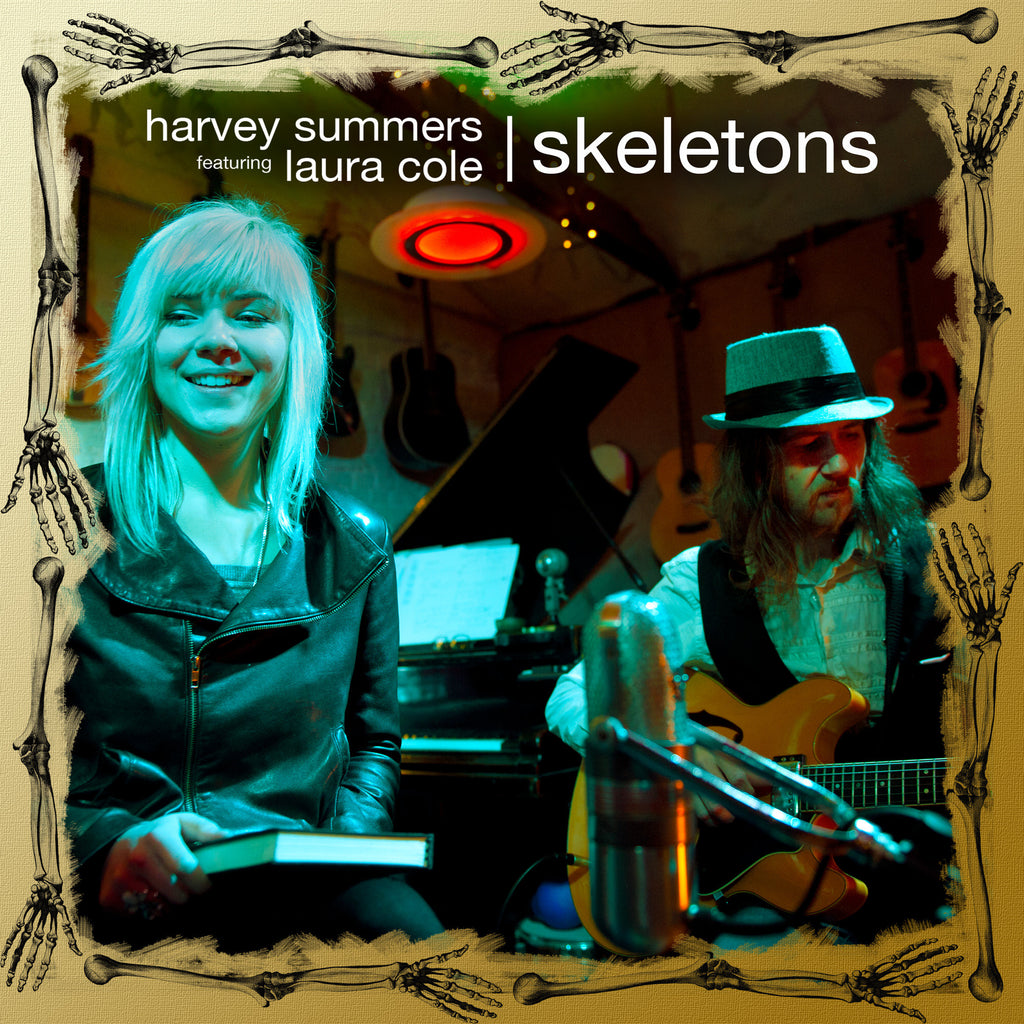 skeletons | harvey summers featuring laura cole
Brand new single 'Skeletons' from Harvey's forthcoming album 'human', featuring Canadian vocalist Laura Cole who co-wrote the song. Laura is a rising star in Canada, with her debut album 'Dirty Cheat' which was released in 2014 following a duet with legendary producer, Daniel Lanois on the song, 'Papineau'. This is where Harvey first heard her and instantly realized she had the perfect voice and talent for 'human', an album he's wanted to make for a long time but hadn't found the right collaborator. Laura has been compared to the likes of Amy Winehouse and Etta James. This track features Laura on vocals, Harvey on vocals, guitar, hammond, banjo and percussion, Chris Chiarcos (who also co-wrote the track) on bass, Sacha Trochet on drums, Liam Genockey on bones and Grammy nominated James McMillan on trumpet.
Important note: When ordering CD quality WAV or mp3 versions. be sure to add 'Skeletons Single Artwork' to your shopping cart - there is no charge but this is the only way to make the file available to you. Super High Res and Special bundles are zip files which already contain the artwork. Thank you!
Then there is the very special deluxe bundle which includes a pre-order for the album, 'human' which will be made available to you in the format of your choice (CD or download) 1 week before it is officially released (around November 2015), your download bundle includes all of the digital versions of 'Skeletons', the PDF booklet, a copy of the 'Skeletons' music video as an mp4, 24 wallpapers / stills from the video and 8 exclusive photos from Adam Piggott photography of the recording sessions. This option is just £12 and guarantees you'll be one of the first to hear the amazing new album and it also helps us to fund it's release. :)
..."And if you really want to help us out, you can make a donation by selecting 'donate' under the format menu. Any amount is helpful and as a thank you, any donation of £20 or more will pre-order the album for you, and give you the deluxe Skeletons single bundle straight away and you'll also get a special mention in the album artwork (both printed and digital versions)! Donations are in multiples of £5, just add the quantity you desire. For a £5 donation, we will give you a copy of Skeletons as a CD quality WAV and be sure to mention you on our social media as a thank you! It's a lot of work and very expensive being independent these days, so your support makes a huge difference and we hope it'll make you a part of something wonderful! Peace, love, music and gratitude"...   Harvey. :) x