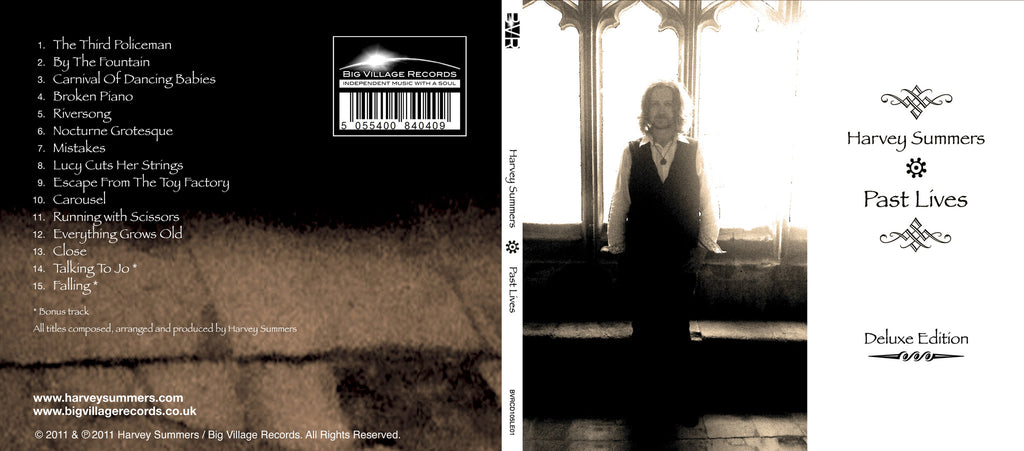 Past Lives (deluxe edition) | Harvey Summers
Very special limited edition of Past Lives, this album inhabits a strange world of mysterious carnival style instrumentals and brooding moody songs with unique instrumentation. CDs are limited to a pressing of 100 individually numbered units, once they're gone, they're gone forever! Also available as a digital download in full CD resolution WAV format and 2 mp3 versions, the deluxe edition features 2 bonus tracks too.
Here's a review from Amazon:
"Harvey Summers is a recording artist in the truest sense of the word and listening to 'Past Lives' is like watching an artist caress the canvas with his brushes. As Summers paints his musical pictures, so the listener is transported to wherever it is Harvey summers wants you to go. Atmospheric tracks like, opener, 'The Third Policeman' and 'Carnival Of Dancing Babies' are scattered with odd sound effects, squeaks, pops and other interesting noises for example but such is Summers skill, what could otherwise be annoying distractions, enchant and fascinate evoking thoughts of 'a genius at work in the studio'. Equally clever, is Summers selective use of instrumentation and melodies that have a 'familiar' sound to them. I challenge anyone not to think at some point during this album of Tom Barnaby and the 'Midsomer Murders' theme or Gillian Anderson and 'The X-Files' though neither of those theme tunes nor copies of such appear anywhere on this album!

Tracks like 'Broken Piano' are particularly experimental and make no bones about being so either but skillfully slotted in to the patchwork pattern of this album, Harvey manages to entice you to 'come with him into this world of wonder' making you glad that you do. The Accordian playing on 'Past Lives' is a particular delight also. Weaving in and out of the majority of the tracks it is the 'arm around the shoulder' from the artist that makes you feel special and valued as the listener.

'Past Lives' is however a departure for Harvey Summers. Renowned for his work in producing the ultimate in 'Feng Shui' and such like chill-out albums, here Harvey mixes abstract instrumental tracks with a healthy smattering of vocal tracks. Harvey's somewhat breathy and low register vocals remind me of 'Badly Drawn Boy' and while they may not appeal to everyone, his style of singing works perfectly on wistful, thought provoking and spiritual songs like 'By The Fountain', 'Riversong' and 'Close'.

So then, a very different side to Harvey Summers perhaps, but a side I for one hope we get to see a lot more of in the future.

Buy This."